The last days of the year are almost always synonymous with parties and celebrations. This is equivalent in Spain to saying that days of many shared meals await us that when we are in charge of the kitchen we want them to be as special as possible. Introducing vegetables to your Christmas menus will not only make them healthier, you will also make them more varied, colorful and easier to digest.
Today we are going to offer a series of delicious recipes based on fresh vegetables that will perfectly complement the typical dishes of this holiday.
Why choose vegetables from solar greenhouses in your Christmas menus?
In the solar greenhouses of southern Spain, located in Almería and Granada, part of the the most gourmet and exquisite vegetables on the marketlike a large variety of premium tomatoes, with the raf tomato in the head; the delicate and tasty zucchini flowers; The chocolate colored peppers; the seedless watermelons or a wide range of mini vegetables to fill our plates with pleasure, color and, of course, flavor.
But the products of solar greenhouses are not only distinguished by their taste, they are also distinguished by their excellent quality, certified by various standards and quality labels; the traceability, something like the food identifier that identifies it from its origin in the field until it reaches the consumer's table; Yes the respect of environmentfor the optimization of natural resources and the use of biological control to ward off pests.
How to store vegetables to retain all their flavor?
Although the flavor of a vegetable depends fundamentally on the the variety cultivated, as well as modEither of cultivation (irrigation, fertilization and climate) and the time of harvest, there is also an aspect which has a noticeable effect on the flavor and which has to do with the conservation. The temperature, humidity or light at which fruits and vegetables are stored and/or exposed are factors that influence not only the consumption time, but also the organoleptic properties.
Tomatoes
Although tomatoes keep best in the refrigerator, especially if there is a high outside temperature, the truth is that the cold affects their flavor, degrading it and making it tasteless. It also alters its texture, breaks down the membranes inside the walls of the fruit and makes it floury. In winter we can leave the tomatoes at room temperature or, if we choose to keep them in the refrigerator, it will be convenient to take them out 24 hours before eating them, since the low temperatures are responsible for the decomposition of the substances that help to improve aroma or flavor.
If we choose to store tomatoes at room temperature, we must do so in a dark and dry place, and separated from other fruits and vegetables, since tomatoes emit ethylene, a natural gas produced by certain fruits and vegetables and which is responsible for accelerating the ripening process.
Peppers, eggplants, cucumbers and zucchini
They tolerate cold better than tomatoes, so they can be stored in the refrigerator. To ensure good conservation, each type of product must be separated in a paper bag, so that it absorbs humidity and delays the decomposition of the vegetable. If we choose to leave these products at room temperature, we can extend their life by wrapping them entirely in plastic wrap, separating them from other products that emit ethylene. Peppers, eggplants or zucchini are sensitive to ethylene, so if we keep them properly insulated we can avoid their deterioration.
If we take these simple conservation tips into account, we will be able to further enhance the flavor of certain products, which will translate into a greater consumption of fruits and vegetables or, what amounts to the same thing, healthy and healthy foods with an impact. very positive for our health. .
13 recipes that will make your Christmas a success
You don't have to complicate your life or spend a fortune preparing tasty dishes to surprise those you love the most. To prepare some of them, it will not even take much time, because we already know that it is becoming increasingly rare.
Eggplant Moussaka
Eggplant, minced meat, homemade tomato sauce and béchamel… Impossible to resist a good portion of Moussaka at any time of the year, so why not include it in a festive menu. It can be a very popular starter since it can be prepared a little in advance and baked when serving.
Eggs on the plate with zucchini and corn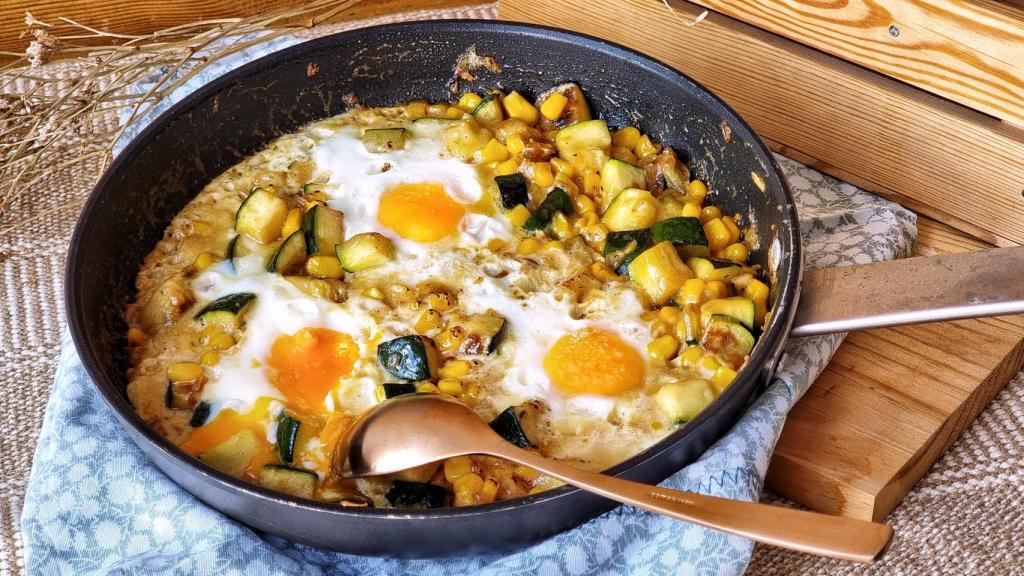 Between parties you also have to eat and these eggs on the plate with zucchini and corn can be prepared in just half an hour, they solve a meal as a single dish and hardly dirty the kitchen. The recipe you need to regain your strength on days of shopping and last-minute errands.
Cup of goat cheese and tomato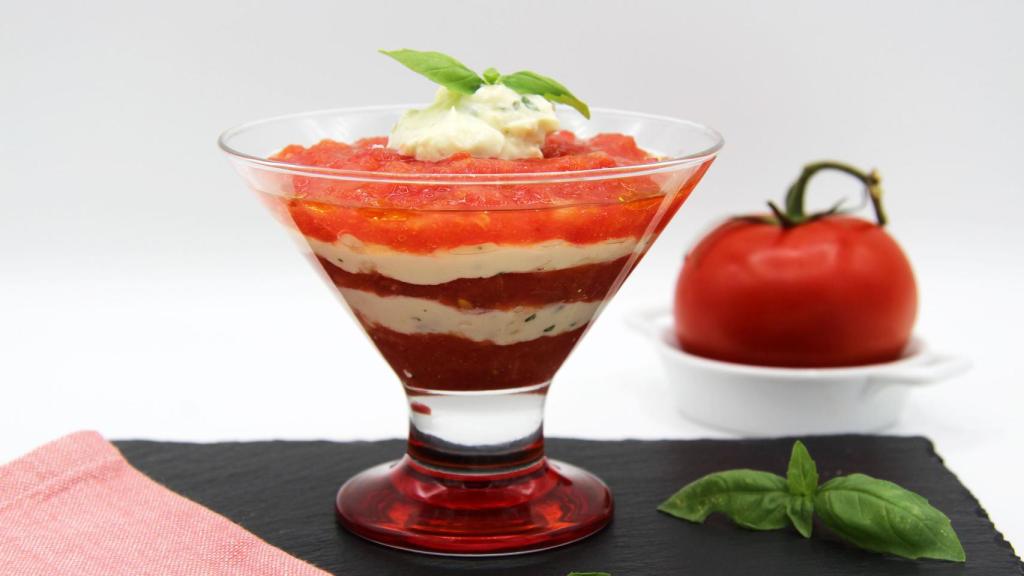 There's nothing like an eye-catching presentation to turn a simple dish into something sublime, like these cups of tomato cream and goat cheese. Presentations in individual format are ideal for aperitifs and informal dinners with many guests.
Tomato and ham tartare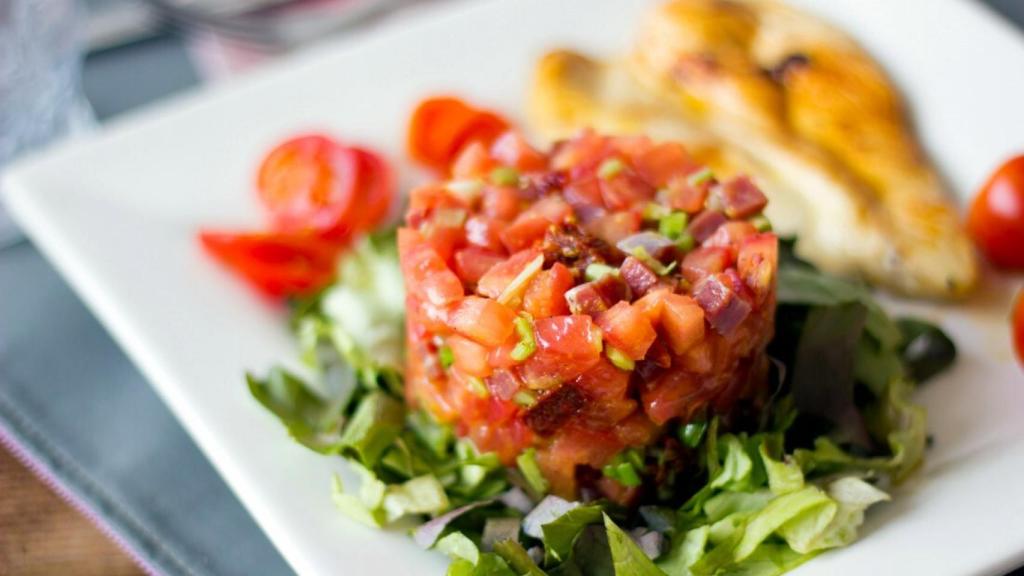 Another example where presentation is often key is this Tomato Tartare, an elegant and different way to present a simple seasoned tomato that will be a hit if prepared with tomatoes from solar greenhouses that are always at their optimum flavor point. . .
Cucumber and hummus cannelloni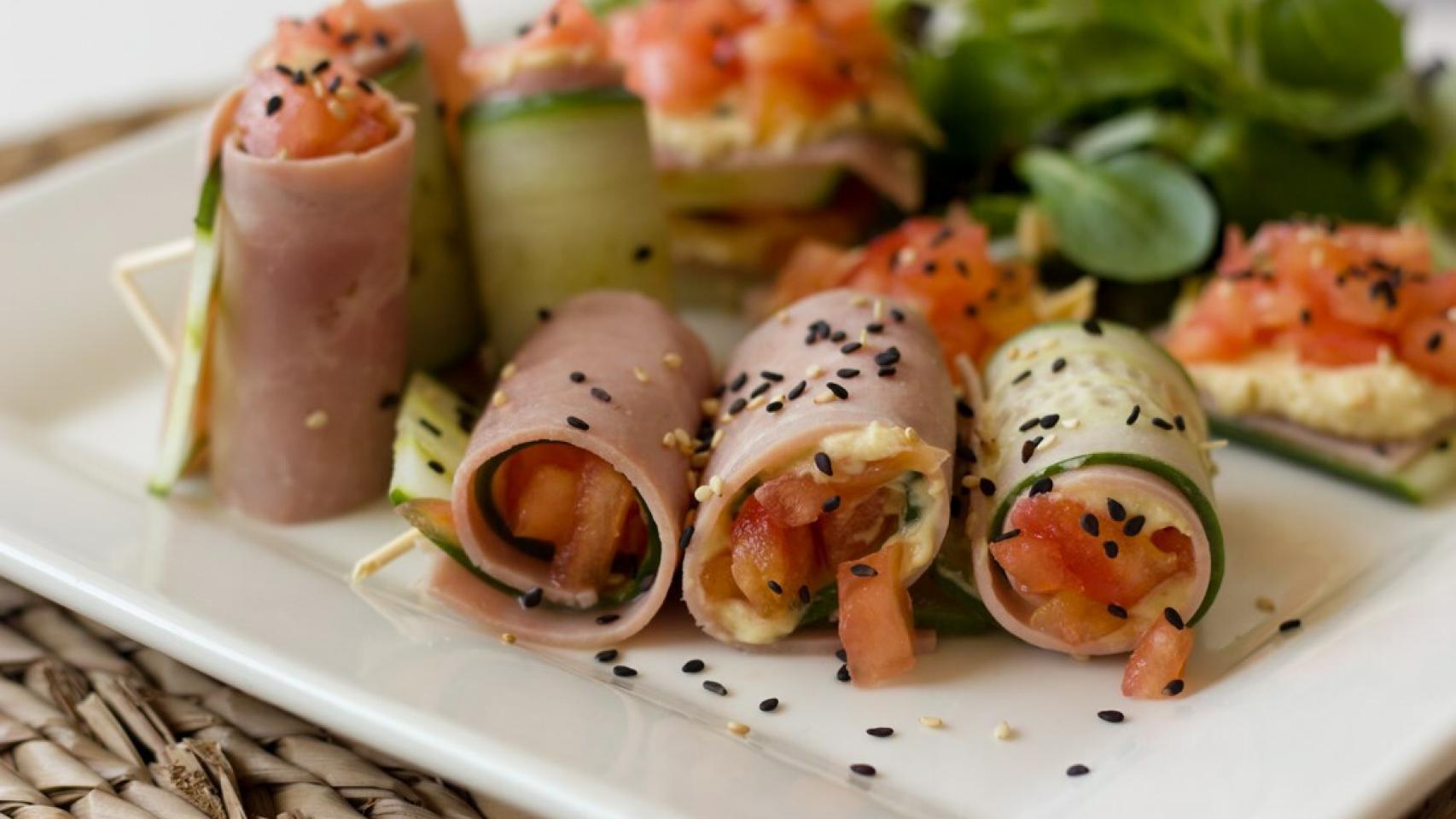 A recipe so simple that anyone can prepare it, even if they have never cooked in their life. They are made with cucumber slices and are filled with chickpea and tomato hummus. They couldn't be lighter and they disappear from the table in the blink of an eye. Here you can see the recipe.
Cucumber and mint cream with salmon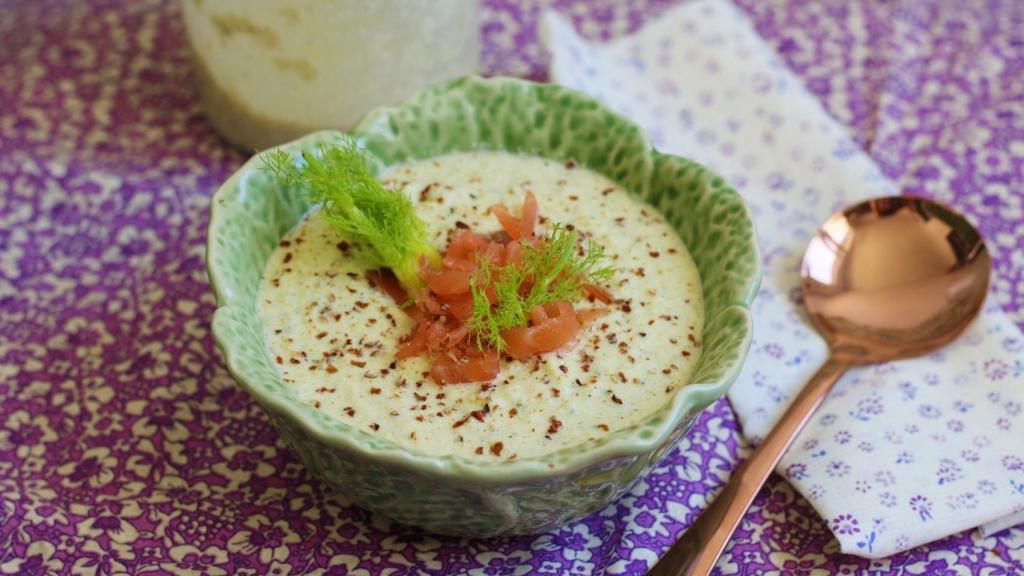 How grateful recipes like this cucumber and mint cream are! All you have to do is put the ingredients in the blender glass and press the button. If it practically happens on its own.
Eggplant cannelloni without pasta or béchamel

The filling is tuna and thin slices of eggplant are wrapped around it. These tuna cannelloni are made with fresh vegetables and are a dish that is the best of the Mediterranean diet. The same solves a dinner (since it's not laden with béchamel, it's much lighter than traditional cannelloni) that makes you happy at happy hour if you serve it in individual casseroles.
Zucchini rolls and tuna pâté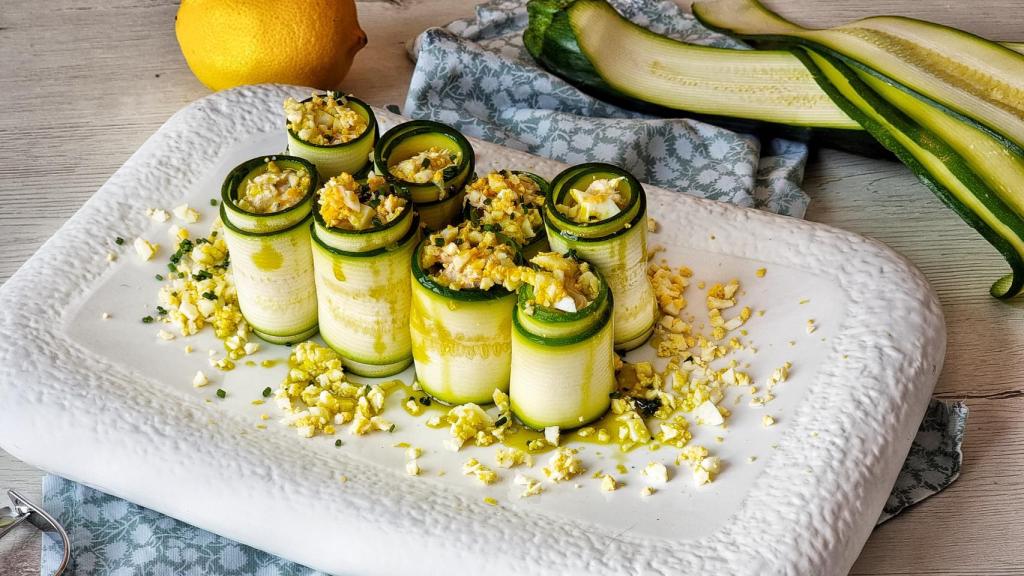 In many homes, when preparing the menu for designated days, the oven runs at full capacity to prepare delicious roasts, but this will not be a problem when preparing entrees. To prepare these zucchini rolls, you only need 10 minutes and you don't even have to go near the fire.
Zucchini and ham pancakes
Make a note of this zucchini and ham pancake recipe because it's the breakfast you're going to want to start 2023 with. It's the perfect recipe to kickstart your post-holiday party.
Zucchini and ham roll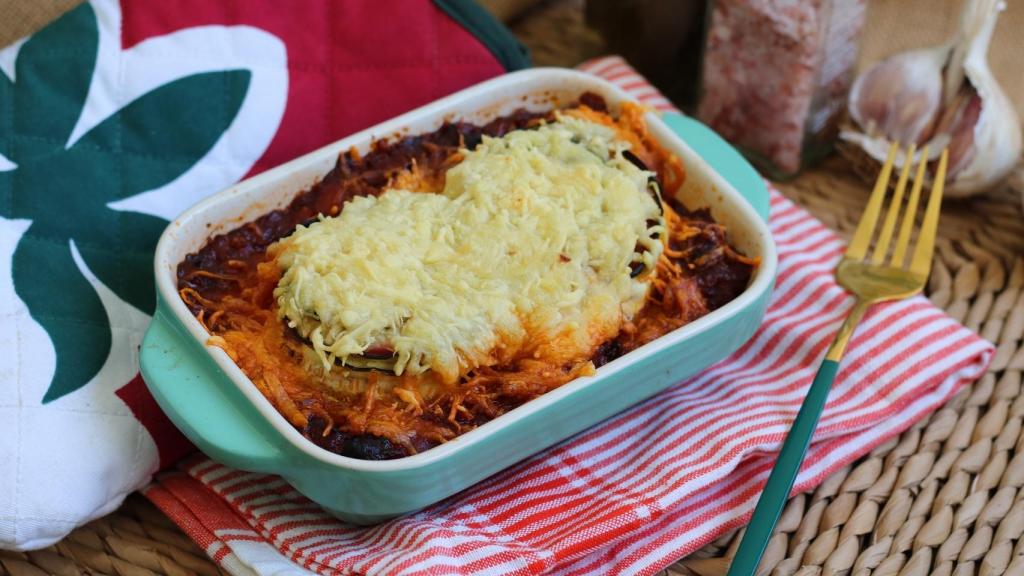 We must not forget that the hot air fryer is like a miniature oven that can get us out of a lot of trouble when the main oven is occupied by a dish. With this appliance, which has become very fashionable in recent times, you can prepare dishes such as these zucchini and ham rolls inspired by the Piedmontese roll, a dish that is traditionally made with pasta, but which we have replaced with zucchini. solar greenhouses. In this way, we change the fast carbohydrates of pasta.
Chinese-style meaty eggplant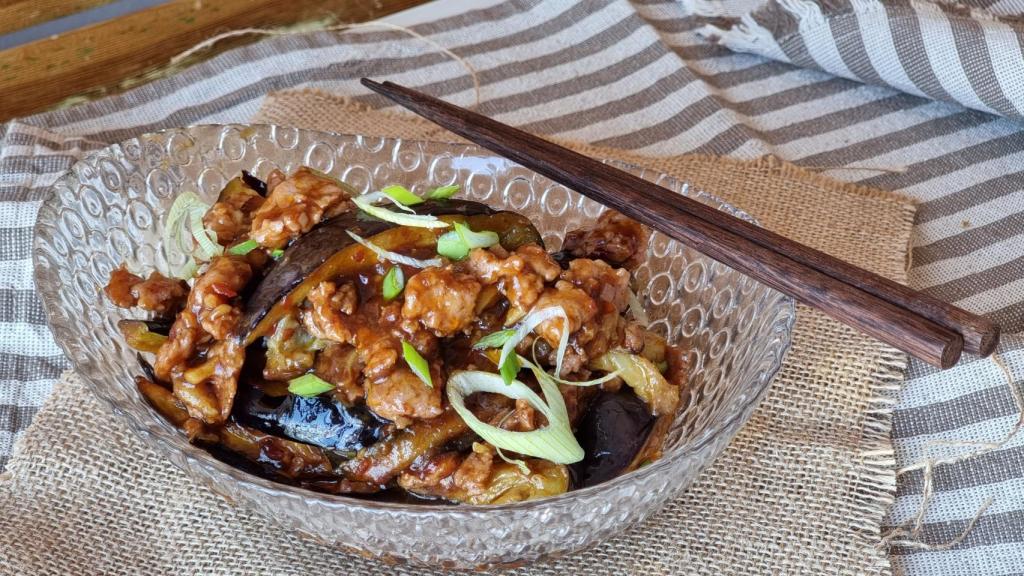 Another essential recipe for the days between the holidays. These eggplants with meat and Asian touches are perfect as a single dish or accompanied by a bowl of white rice, they are the perfect menu for the eves of major parties.
couscous stuffed peppers
A luxury garnish to accompany meat dishes with which you will surprise your guests. Click here to see how these couscous stuffed peppers are made.
Shakshuka
This recipe is the version of our egg ratatouille consumed in the Middle East, very popular in countries such as Lebanon or Israel. The main ingredient is tomato, although it can also include other vegetables like peppers or eggplant. Unlike the Manchegan version, the Shakshuka it's spicy and much spicier.
This Christmas, don't let excess take its toll and eat healthy.
Follow the topics that interest you
.