The holidays when we eat the most are approaching, so we bring you a series of healthy recipes for Christmas. The festive atmosphere encourages relaxation and can sometimes make us neglect our good habits.
Recipes with nuts
To maintain good cardiovascular health, it is essential to follow a varied and balanced diet, rich in vegetables and nuts such as nut.
They contain very beneficial nutrients such as omega-3 fatty acids, antioxidants, proteins, fibers, magnesium and phosphorus, so they are a source of health and a powerful ally for the optimal functioning of our whole body.
It is scientifically proven that a daily serving of nuts contributes substantially to taking care of our heart:
reduce cholesterol and triglyceride levels

lower blood pressure

Chef and influencer Loleta (@loletabyloleta) has concocted a delicious Christmas menu for you so that you don't give up enjoying the holidays while continuing to take care of your heart and that of your loved ones.

Healthy recipes for Christmas
Cheese and Walnut Canapes
ABOUT THIS RECIPE
12 servings 20 minutes Easy
INGREDIENTS
1 sheet of puff pastry, 300g light cream cheese, a few chives, 60g crushed walnuts, 12 whole California walnut halves
For the red fruit jam:
100 g raspberries, 10 g strawberries, 50 g currants, 75 ml maple syrup or honey, 1 teaspoon pure vanilla extract
ELABORATION
1. Put all the ingredients for the jam in a saucepan and bring to a boil over medium heat. For about 10 minutes mash with a wooden spoon so that the fruit crumbles.
2. When it is ready, we can strain it to remove the seeds (optional) and reserve it.
3. Using a fork, work the cheese. Add the chopped chives with the walnuts and mix well.
4. In a skillet, lightly brown the walnuts.
5. Roll out the puff pastry and cut it into 12 parts: first in half vertically and in half each part then in half horizontally and in half each part so that we have 12 portions left.
6. We put in each square of puff pastry a teaspoon of the cheese mixture and finish with a little jam.
7. We close each square with the corners forming a small bundle.
8. Brush with beaten egg and bake in the oven at 210 degrees for about 10-12 minutes until the puff pastry is golden brown.
9. Serve hot with a little more jam and finish with half a walnut on each portion.
NUTRITIONAL BALANCE
Energy: 193 calories
Carbohydrates: 13.8g
Proteins: 2.9g
Fats: 13.5g
Polyunsaturates: 4g
Monounsaturated: 3.1g
Fiber: 1.9g
Turkey breasts with nut and port sauce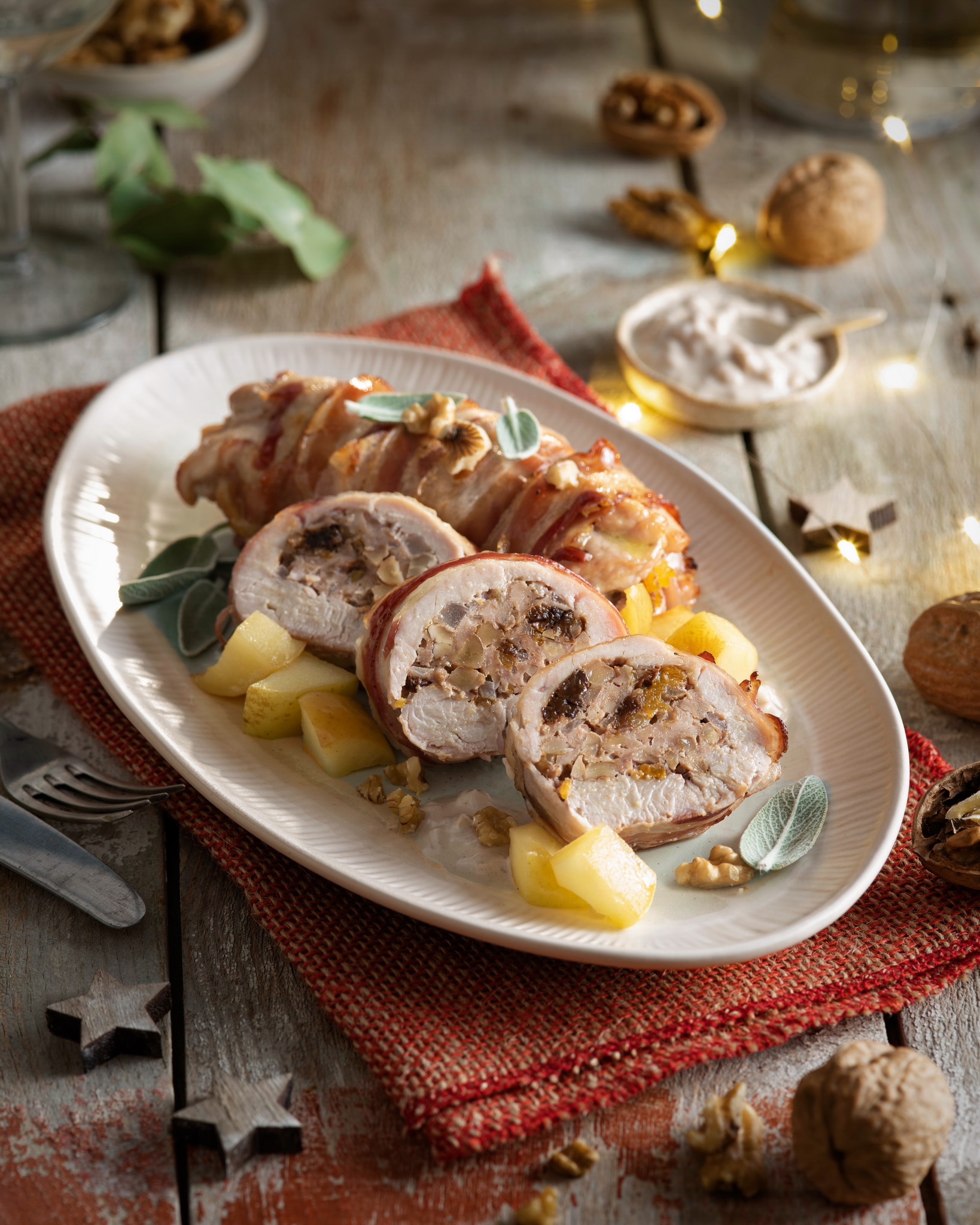 ABOUT THIS RECIPE
5 servings 60 minutes Half
INGREDIENTS
For the turkey:
5 turkey breast fillets, 5 slices of bacon stretched with the back of a knife, a few fresh bay leaves, 2 tbsp extra virgin olive oil, 75ml sherry wine, manzanilla or amontillado, 250ml chicken broth
For the fodder:
200g ground turkey, 80g chopped California walnuts, 1 finely chopped red onion, 4 chopped prunes, 4 chopped dried apricots, 10g chopped tinned black truffles, a little nutmeg, a dash of cognac, salt and freshly ground black pepper, ½ tsp salt and a little ground black pepper
For the sauce:
200 ml light cooking cream or light evaporated milk, a few sage leaves, 100 ml port wine, 2 shallots, chopped
To go with:
2 diced apples, 2 tbsp butter, 80 g whole California walnuts
ELABORATION
1. Combine filling ingredients in a bowl. Season with salt and pepper and set aside.
2. Place a chicken breast on the counter, in the center a ball of filling and fold the breast into a ball and wrap a slice of bacon around the breast. We repeat with all breasts. We pass a string from top to bottom and we tie the chest. Then we pass another string forming a cross with the first. And we end with a third forming a star.
3. Heat the oven to 200°C. Place the breasts in a casserole suitable for the oven, adding a few bay leaves and drizzling with a little oil. We cook for about 20 minutes.
4. We take out and pour sherry and broth. We cover with foil and roast about 20 minutes more until the center of the breasts is about 70 degrees in the center (we'll use a thermometer with a probe if we want accuracy but with these times they should be perfect).
5. When the breasts are ready, we take them out of the oven and transfer them to a plate.
We put the pan on the fire and reduce the sauce. Stir with a wooden spoon and bring to a boil over low heat.
6. Meanwhile, in a saucepan, brown the shallots with a little oil. Add the cream and wine and a few sage leaves, and boil until the sauce thickens. Then add the halved walnuts and two scoops of breast sauce and bring to the boil.
7. We turn the turkey breasts over and cook for a few minutes.
8. Cut the apples into cubes and brown them in butter.
9. We serve the meat with apples and nuts
NUTRITIONAL BALANCE
Energy: 705 calories
Carbohydrates: 22.7g
Proteins: 33.7g
Fats: 53.3g
Polyunsaturates: 19g
Monounsaturated fat: 16.2g
Fiber: 7.5g
For dessert, how good is this lemon, walnut and blueberry sponge cake (https://nuecesdecalifornia.com/bizcocho-de-limon-nueces-y-arandanos/)? We assure you that it will satisfy all your delicacies and, in addition, it does not contain gluten, so it is ideal for everyone.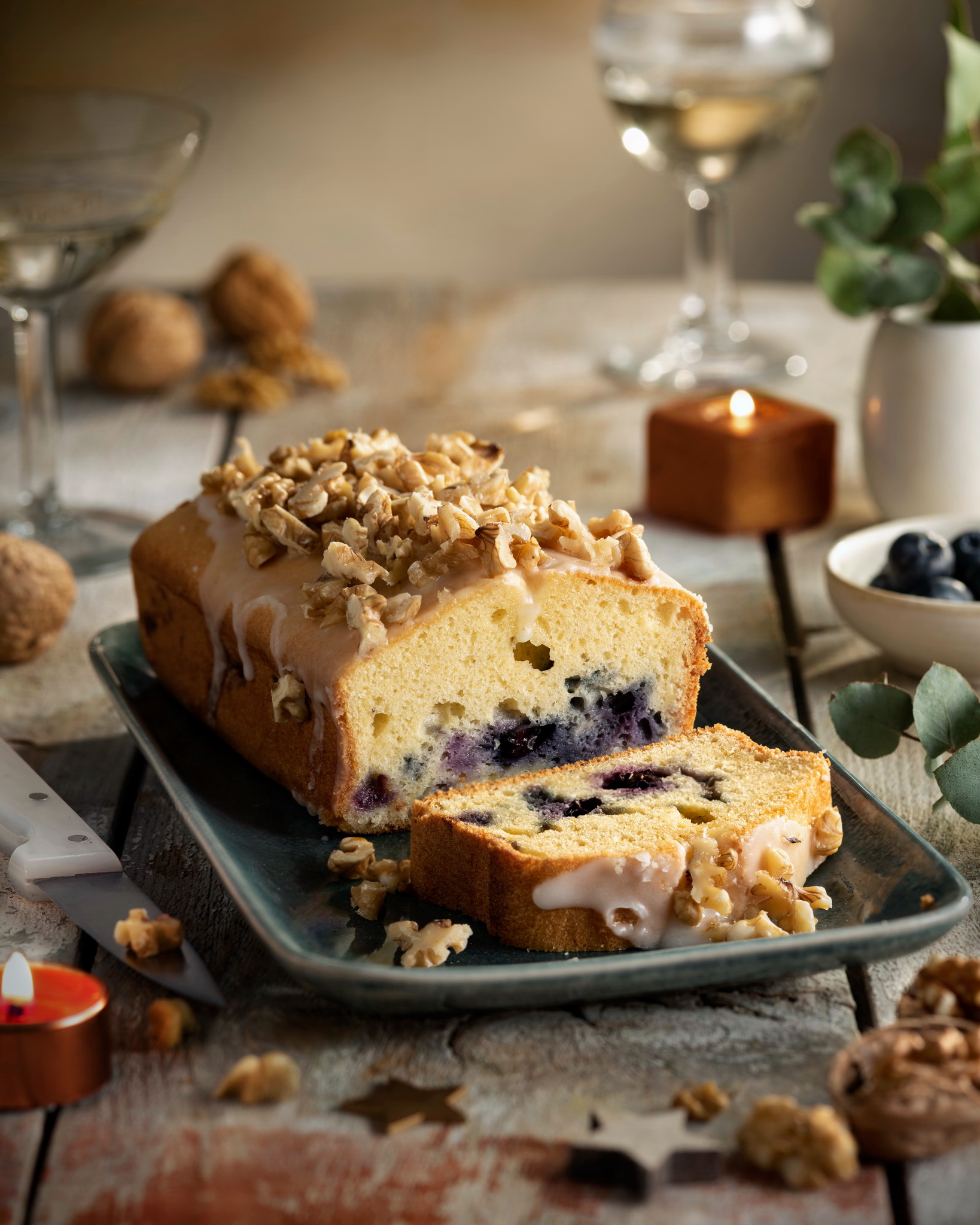 As you can see, it is not necessary to give up flavor to eat in a more special way, it is enough to adapt the typical Christmas dishes and prepare them in a more healthy to balance the contributions. Another good idea is to add salads to entrees and include fruit in desserts.
In the same way, remember that for a healthy heart it is important to exercise regularly, but if during the holidays it is a little more difficult for you, you can always walk when it is possible or take a good walk with family and friends to reduce the food a little.